What supplies should you get before your new puppy arrives? Check out our New Puppy Checklist below and discover all the gear you need for your new family member!
Need to have:

Puppy Food (ask your breeder for advice)

Different types of dog toys (soft plush toy, chew toy, ball, and puzzle toy etc)
Towel

Dog Crate/Dog Seat Belt/Dog Carrier
Good to have:
Treat Bag
Dog Training Clicker
Feel free to save the Puppy Checklist below, print and use it whenever you need it! If you miss anything on the list you can always add more things to it.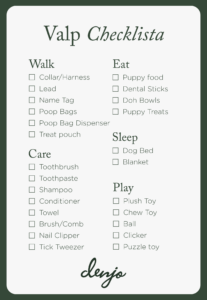 Read more:
Puppy Bed Guidelines – 4 Tips For Choosing The Right Dog Bed For Your Pup